WELCOME TO
GAINESVILLE ANIMAL HOSPITAL

"Pets Are Family Too!"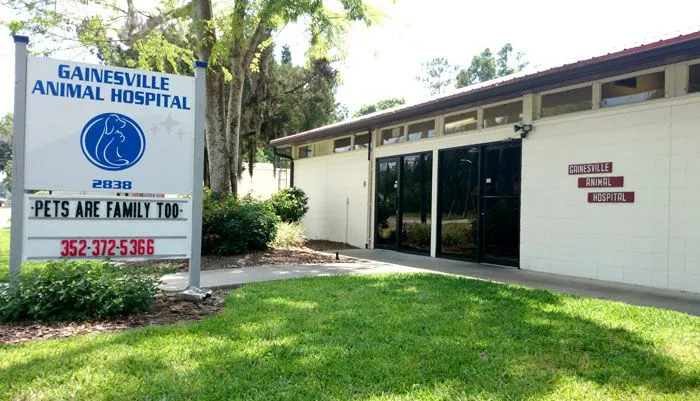 Welcome to Gainesville Animal Hospital, established in 1948. We have three locations to serve the needs of your pet. The doctors at Gainesville Animal Hospital have over 100 years of combined experience, and are committed to giving you and your pet the best care as the best price possible.
---
We believe pets are family too. Our mission is to provide the highest quality care, products, and services by utilizing innovative technologies in a professional, compassionate, and friendly environment.
---
Our Doctors are licensed veterinarians, treating pets like family. Your pet's health and well being is very important to us and we will take every step to give your pet the best possible care.
Gainesville Animal Hospital is a full service animal hospital and will provide routine services, medical, surgical, and dental care as well as emergency care. Our Veterinarians are experienced in all types of conditions and treatments. We make our clinic comfortable, kid-friendly, and a very calm environment so your pet can relax in the waiting room and look forward to meeting his or her own veterinarian.
We believe the best veterinary care for animals is ongoing nutrition and preventative medicine including regular diagnostics, vaccinations and parasite prevention. We looking forward to seeing you at one of our clinics soon, where pets are family too!
---
At Gainesville Animal Hospital, we treat your pets like valued family members. We are pleased to offer the following services for your convenience and savings!
---
Special Promotion for Bravecto & Sentinel Spectrum!
Call us TODAY for more information.
Protecting your pets from parasites is one of the best ways to ensure a healthy pet. Check with our staff for great savings on protection from heartworms, fleas, ticks, tapeworms, roundworms, whipworms and hookworms!

---
After-Hours Emergency?

---
Click the Pet Portal to log in and update your pet's information, book their next appointment and more!
---
Save time and have your pet's medications
and prescribed food delivered directly to your home!
---
Stay informed, save time and be prepared by filling out our client forms
in advance of your visit!
---
Save money with Pet Insurance!